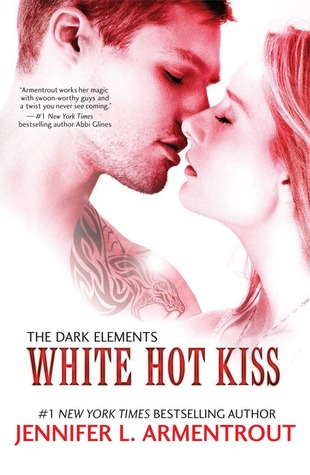 Publisher
: Harlequin Teen
Date Published
: February 25th 2014
Genre
: Young Adult Fantasy/Supernatural Romance
Series
: The Dark Elements #1
Source
: Publisher
Rating
: 5 out of 5 stars
One kiss could be the last.





Seventeen-year-old Layla just wants to be normal. But with a kiss that kills anything with a soul, she's anything but normal. Half demon, half gargoyle, Layla has abilities no one else possesses.





Raised among the Wardens—a race of gargoyles tasked with hunting demons and keeping humanity safe—Layla tries to fit in, but that means hiding her own dark side from those she loves the most. Especially Zayne, the swoon-worthy, incredibly gorgeous and completely off-limits Warden she's crushed on since forever.





Then she meets Roth—a tattooed, sinfully hot demon who claims to know all her secrets. Layla knows she should stay away, but she's not sure she wants to—especially when that whole no-kissing thing isn't an issue, considering Roth has no soul.





But when Layla discovers she's the reason for the violent demon uprising, trusting Roth could not only ruin her chances with Zayne…it could brand her a traitor to her family. Worse yet, it could become a one-way ticket to the end of the world.
Does JLA ever write anything less than extraordinary?
I fell in love with the Lux series. I became an addict over the Covenant series. And now I am falling, spiraling into crazy book-addiction over JLA's Dark Elements Series.
Layla wants to be a normal, regular teenage girl. But she half gargoyle, or Warden as their called. And that's not the weirdest bit. She's also half demon. Oh, and she can suck out your soul by kissing you.
Then there's Roth. He's sin personified, with tattoos that jump off his skin,
literally
, and an attitude to boot.
The best thing about Roth? He has no soul, so Layla can kiss away.
Loved this book. I have always loved gargoyles, especially the ones in The Hunchback of Notre Dame, and the real ones on the cathedral in Paris. I also have a toy one that I've had since before I was born. So yeah, gargoyles rock!
I loved Roth. Of course, who didn't? He was dreamy in the total bad-boy way. And Layla. Her, shall we say, 'powers', were kind of freaky, but in a way that entices you. Though the character herself was sweet. I liked her.
Favorite thing? Besides Roth, I mean. Bambi. Who knew such an innocent name could work for something so deadly it eats other demons? Then again, I think I've heard it's a popular stripper's name.
Another hit by JLA. She can never do wrong in her writing. Unless she kills an awesome character. Then of course all of us readers will be upset. I can think of several writers that killed off the main characters and were bombarded by messed up readers. Don't torture us, JLA, please. I'd like to come out with my heart intact.
This book is a new favorite of mine, as all of JLA's are. It's mature young adult, so it can be read by pretty much anyone. Of course, it's a romance. And it's a fantasy/supernatural story too. I think of gargoyles as fantasy and demons as supernatural, but a lot of people just count it as paranormal. It all depends on your own views, really. There's no concrete description for those.