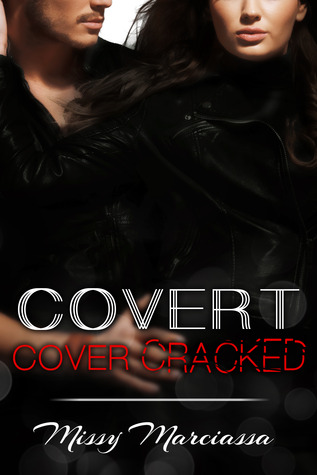 Publisher
: Marissa Marciassa
Date Published
: April 28th 2014
Genre
: New Adult Action Romance
Series
: Covert #3
Source
: Author / NetGalley
Rating
: Crazy Good 4 out of 5 stars
When 23-year-old Elle can't explain why her job as an Information Scientist at the Library of Congress keeps her so busy (because she's actually a CIA operative who just became field rated), her boyfriend dumps her, so she decides to focus on her career and enjoy a fling.





Navy SEAL Reese Beckwith seems like the perfect fling material except the more he sees Elle, the more he wants to know about her, and she can't resist him. Things get complicated when Reese spots her with her CIA partner, a known womanizer. His questions for Elle get more pointed: he sees the potential for more than a fling, and once he sets an objective, failure is not an option.





Yet Elle tries to keep Reese in the "fling" category as her first major assignment heats up, becoming more personal with each development. When her personal and professional lives collide, Elle is put to the test. Does she have what it takes to be a covert operative? Will she have to choose between love and her career?
Elle has to decide if having a successful career is really worth having a crappy social life. Except she's come so far. From being a total geek to a geek that can kick ass. She doesn't want to let go of her new life. She's not allowed to tell family and friends what she does, and its wrecking her personal life. But Elle wants her job more than anything. But if she can never tell anyone what she does, what kind of personal relationships can she ever have?
Reese is shipping out soon. He's a Navy SEAL and he isn't looking for anything permanent. All he wants is a fling to tide him over. Being stuck on a sub for six months is going to suck. But when he meets Elle, he's blown away. What starts as a fling becomes someone more. Reese knows that there's something about Elle that's different. And how does a Liberian, excuse me,
Information Scientist
, know krav maga? Reese is falling for her hard, even though they were only supposed to be a fling. But what if he wants more?
"
I wouldn't want to hurt your manly pride. Or get myself arrested for assault.
"
I love that she's a kick-ass heroine and that she does struggle. She doesn't have everything fall into her lap. And she struggles within herself, too. It's believable, and I connected the most her. She struggles with her want to keep going and the realities of the job she has. Her dreams versus reality, basically. And she pushes herself. It's great. And she grows. She's not a static character. At the end of the book she understands more about her choice to work for the CIA as a field rated agent compared to the beginning of the book when she thought she understood what she was getting into, but didn't really understand on a fundamental level.
Reese you don't meet right away. He comes in a bit later. He's a sweet guy, can kick ass just like Elle, and he gets the job thing. They work relationship wise together.
"
I'm up for some sparring. I'll even lick your wounds afterwards.
"
He is rather sexy too.
I do think that Reese is a bit more of a bland character compared to Elle, and I wished we had more from his point of view so I could understand him better. Most everything we read was from Elle's point of view, so we understood her the best. Reese we only got glimpses of. It bothered me that for the first half-ish of the book he was pretty scarce. I would have liked to know more about him.
Preston. Wow, that name has really begun to mean womanizer in books. I don't know how many books I have read where Preston is the player. Preston is a bit annoying for me. He seems like a know it all, and he keeps asking if Elle really knows the score. She didn't at the beginning, but that's not the point. It bothered me that he kept bugging her about it, even if he had a point.
Mason. God, you are gonna hate this guy. He has no emotions, may as well be a robot. And he's a good guy. But he's patronizing, critical, and puts Elle down with every minor mistake she makes. He does have a point about her complaining sometimes and threatening to quit, but still. He could be a little more cordial.